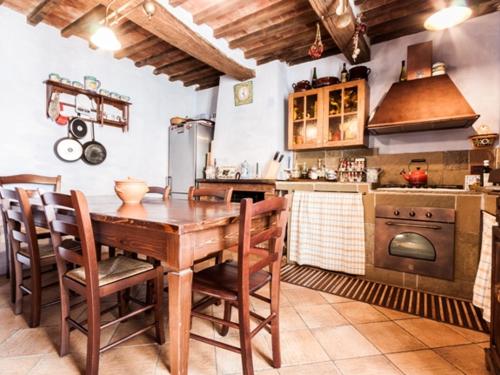 HOMEMADE - cook with us
The passion for cooking and the curiosity that distinguishes the human being, combined with the great pleasure of sharing, prompted us to carry out this project which is simply aimed at making our territory known in all its nuances, thus hoping to be able to increase in constructive and authentic way, the cultural background of those like us who think that the human being needs two nourishment, that of the body and that of the spirit.
-if you decide to participate in one of our cooking classes with a stay, know that you will be taken by the hand and accompanied step by step on this path which is really a journey inside our territory.
-you will also be able to share this experience with other people, (max 8 participants) by cooking, learning, observing and above all …… tasting!
Francesco, Pino and Antonino are waiting for you to guide you on this path with a warm welcome and professionalism !!
Cooking Master Class of handmade pasta from the Tuscan tradition
Francesco specializes in the preparation of handmade pasta and will be your "personal chef" !!
He will accompany you in all stages of preparation of the dishes during the cooking class to be held in our kitchen in Borgo Tepolini.
The duration of the class is 5 hours, from 10 in the morning until 15 after lunch.
It starts with the preparation of the handmade pasta and follows with various preparations of sauces in combination until we arrive at lunchtime, where we will eat and taste the dishes prepared together, with paired wines selected by local producers.
The Masterclass will conclude with the distribution of information material and handouts.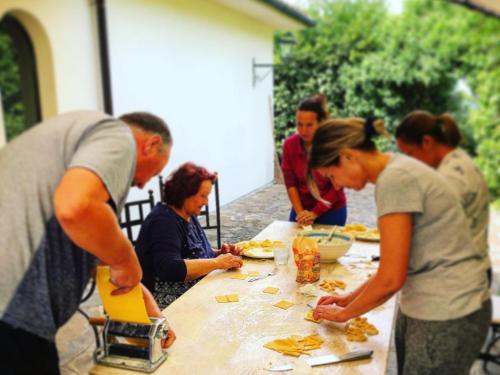 THE WORKSHOPS
LAB 1
TYPES OF PASTA
noodles
Tortelli
SAUCES:
ragout Maremma
white rabbit ragout
LAB 2
TYPES OF PASTA
Tagliolini
Tortelli
SAUCES:
Cheese and pepper
Butter and sage
Special requests are accepted based on guests' needs (allergens, intolerances ...) or agreed variations on the types of pasta and sauces according to your requests.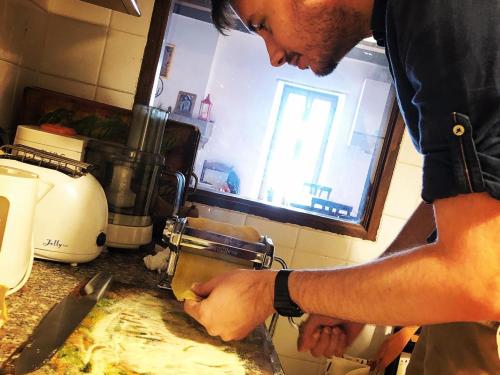 THE STAY IN BORGO TEPOLINI - 2 nights
Arrival is expected the evening before the masterclass. Antonio and Pino will be waiting for you in Borgo Tepolini to welcome you and show you your rooms.
At around 9 am you will be served a typical breakfast with homemade bread and jams, pies, cakes and typical local products. All accompanied by a good coffee, cappuccino or drinks of your choice.
Immediately after the start of the master class (10 am) with Francesco
Free afternoon for excursions or rest in the garden (from June there is also a beautiful swimming pool with a view of the valley.)
In the evening it will be possible to request dinner based on typical local products prepared by Pino and Antonio
The next day will be free. After breakfast you can choose to visit the beautiful villages of the Val d'Orcia such as Montalcino, S.Quirico d'Orcia, Pienza or Montepulciano, or relax at the Terme di Bagno Vignoni with its beneficial natural warm waters.
On request you can visit some historic cellars of Brunello di Montalcino with tastings of wines and typical products.
Alternatively, it is possible to rent e-bikes that will allow you to make beautiful walks through the valleys of our territory with little effort.
For any information, please contact us ...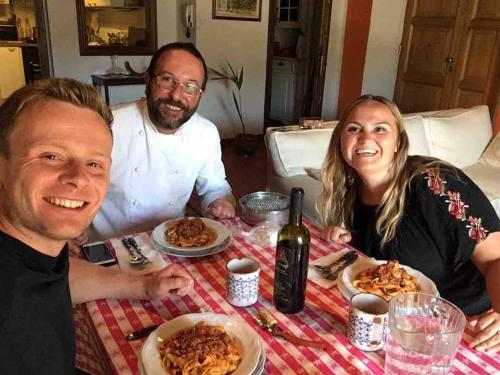 Cost of each course (including lunch and drinks)
2 people: € 100.00 per person
4/6 people: 90.00 per person
8 people: 80.00 per person
2 nights stay in Borgo Tepolini
€ 90.00 per person - 2 nights with breakfast in a double room