Cooking tuscany classes in the hearth of Val d'Orcia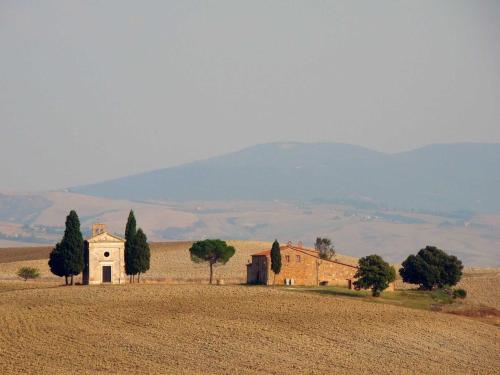 -The passion for cuisine and the curiosity that characterizes the human being, combined with the great pleasure of sharing, have pushed us to realize this project, which is simply intended to make our territory known in all its hopes, hoping to be able to increase constructively and authentically, the cultural baggage of those who think that the human being needs two nutrients, that of the body and that of the spirit.
-You will decide to take part in one of our stays that you will be taken by hand and accompanied step by step in this journey that is really a journey into our territory.
- you will also be able to share this experience with other people (max 8 participants) by cooking, learning, watching and above all ……. enjoying!
Teresa, Pino and Antonino are waiting to guide you in this journey with a warm welcome and professionalism !!
THE COOKING CLASSES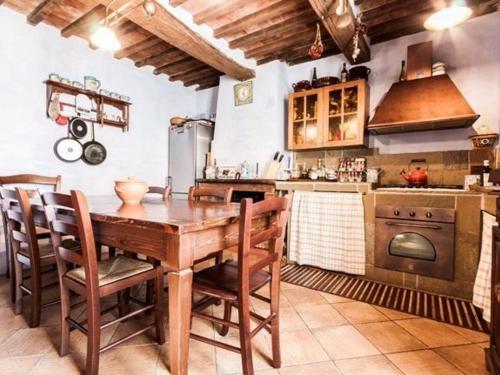 Lessons will take place in the kitchen of our country house, a typical Tuscan country house immersed in the green of chestnuts.
Here we will welcome you to spend your day together .. and where you, with our guide, prepare the typical dishes of the territory we have selected for you! If there is any dish you prefer to ask for it … just know it in advance and put it in the menus.
All the dishes prepared during the class will then be tasted for lunch in our living room or, if possible in the beautiful season, in the park with panoramic views !!
All the products used are selected by producers in our area … and herbs and various spices can be collected directly from our garden.
The class will begin after breakfast at 9.30 am and will end at 13.30 … lunch time together!
There will be a choice of one, two or more classes
MENU - DAY 1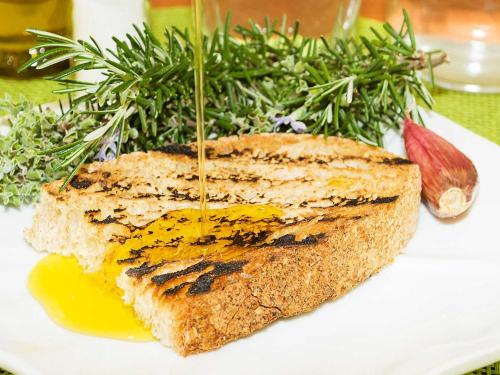 We propose a selection of typical dishes of our territory … ancient recipes also verbally handed down that you will be able to choose for your menu and that you will be able to go back home for family and friends. (the menu will be the same for all participants)

Preparing: Appetizer, first, second, outline, sweet

Appetizer selection:

Bruschetta Amiatina con aglio ,olio e limone
Crostino Toscano
Carpaccio di chianina
Pappa al Pomodoro
Insalata di Farro con pecorino e pomodorini

First selection:
(the pasta will be made by you! … by hand and by car)

Pici all'Aglione
Pici ai funghi porcini
Fettuccine al ragù bianco di chianina
Tortelli maremmani ricotti e spinaci
Zuppa di ricotta e bieta
Ribollita
Pasta e fagioli
Farfalle amiatine con salsiccia e funghi

Second selection:

Antico peposo dell'Impruneta
Faraona stufata del contadino
Coniglio alle mele
Rostinciana al montecucco
Pollo ruspante ai sapori del bosco
Cinghiale in umido
Polpette alla maremmana

Side dishes:

Beans with the bird
Spinach with raisins and pine nuts
Chickpeas with rosemary
Tomatoes on the plate
Grilled radish

Dessert selection:

Ricotta mousse with honey and chocolate chips
Cantuccini
Chocolate cake
tiramisu
MENU '- DAY 2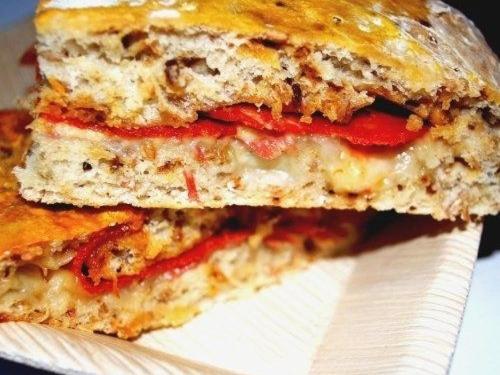 The second day (on request) will be dedicated to "salty". You will then be able to prepare pizza for pizza, cheese, buns, rustic appetizers and many other typical delicacies.
For example, we can prepare together:

Focaccia con alici e scarola
Focaccia bianca al rosmarino
Ciaccino Senese
Pizza ai funghi porcini
Pizza Margherita
Pizza alle verdure
Pizza alle 4 stagioni o Capricciosa
Sformato di cardi
Sformato di ricotta e spinaci
Sformato ai broccoli

They will use "ancient" flours and seasonings of the territory

On request additional classes can be added according to your needs
(desserts, vegetarian … etc ..)
COSTS AND INFO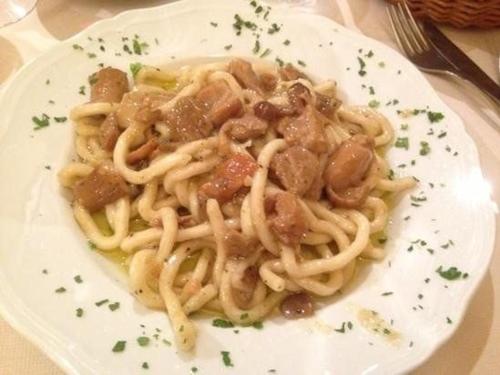 One day class will have a variable cost based on the number of participants
Minimum 4 and maximum 8 people

For 4: 85,00 euros per person
For 6: 75,00 euros per person
For 8: 65,00 euros per person

The two-day class:

For 4: 150,00 euro per person
For 6: 130,00 euros per person
For 8: 110,00 euros per person

Extra days will be quoted on request.
Costs will include the lesson with professional chef / chef, raw materials, kitchen tools and final lunch with dishes prepared in the classroom. Water and wine in the area.

The overnight stays are in a double room and for two people. The double room for single use can also be requested.
The cost of overnight stay will be ? 40.00 per person per day with breakfast in a double room. 60 euros per day in single use room

Class reservation must be requested by mail in good anticipation and verified according to our availability.
Payment can be made by bank transfer, paypal or credit card.

Info and reservations:
mail to: info@borgotepolini.it
Tel: +39 349 4752477- +39 0564955674
ADDITIONAL SERVICES AND EXCURSIONS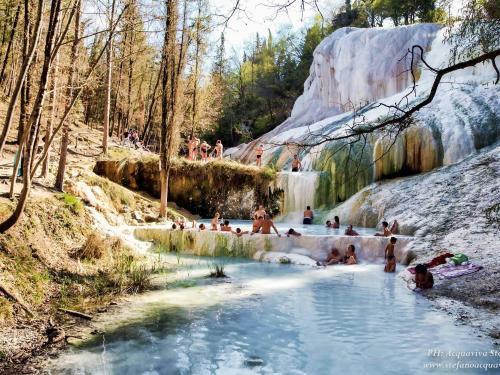 During your stay in Borgo Tepolini for our cooking classes our staff is available for other services on request to get you to know the best of our territory both from the point of view of the typical products as well as excursions in fantastic places and a bit outside the traditional tourist routes …

It is possible to request by reservation:

- Tasting of wines and oil at Borgo Tepolini or at farms in the area

- Visit to Daniel Spoerry's Artistic Park

- Excursion to the Terme di Bagni di San Filippo (with possibility of bathing in the natural spa)

- Excursion to the summit of Mount Amiata with lunch at the shelters

- Tour of the Val d'Orcia with visits to San Quirico d'Orcia and Pienza or Montalcino and Abbey of S. Antimo.

- Visit to the Mining Park and Abbey of San Salvatore

Costs will be calculated on the basis of the participating participants and communicated on your request.
Pino's recipes - The peposo of Impruneta or Fornacina, typical dish of Tuscany tradition. Prepare it with us!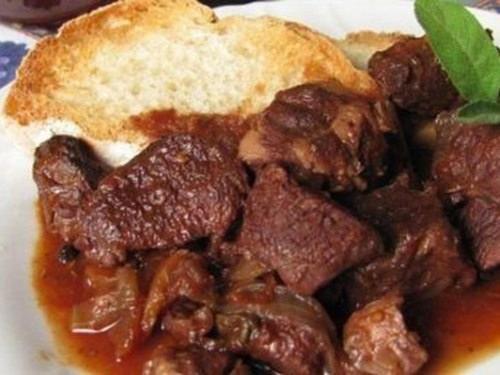 The Impruneta or Fornacina is a chianina muscle stew meat cooked in large terracotta pots with good red wine, pepper and garlic . The recipe invented by the brick cookers in the furnaces of the imprunete, was very much loved by the workers of Filippo Brunelleschi
The original recipe used during the construction of the dome of the Santa Maria in Fiore Cathedral in Florence provides for the use of wine in which the ingredients are cooked. Very used in our area of ​​ Amiata.

For 4-6 people:

1.300 kg of beef muscle (possibly Chianina) not too lean
1 bottle of Montecucco DOCG (because it is the wine of our area, but it is also good another Sangiovese Toscano wine) a handful of black pepper (about 10 g) 6 cloves of garlic salt, laurel and some juniper berries.


Preparation and cooking

First cut, or cut off from the butcher, the meat in pieces is not too small, as in cooking, the meat will soften and flake. Place it in a pot with a thick bottom, the ideal would be a terracotta pan or even a cast iron pot.

Combine peppercorns, peeled garlic, aromas and cover with wine. Put on very sweet fire and bake, stirring occasionally, for at least three hours. After finishing the cooking, add a bit of pepper powder if you like. Serve with substantial slices of Tuscan bread rolls.

Serve it in the table directly from the pot of coccio …. will make a nice figurone with the guests!
We propose a spice of bean sprouts that marry very well with the dish.

Let us know how it goes !! ……… For any questions please write to Pino: info@borgotepolini.it
You can taste all recipes just as guests of our country house

(the recipes are of the tradition … but obviously sometimes modified according to our taste)